---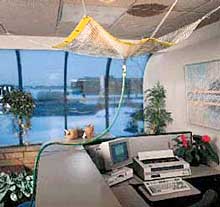 THOR brand drain tarps should be installed for overhead leaks until the source of the leak can be identified and repaired. They are ideal for office locations to protect employees, work-stations, file cabinets & computer equipment. They are also deployed in their larger sizes in plant and industrial warehouse spaces to prevent rust and water damage to stored containers and production equipment. They are designed with a high strength-to-weight ratio in mid for ease of hanging. Equipped with centered drains they effectively catch and channel water safely to the drain, down your hose and away from the affected area. Heavy gauge D-rings are sewn into each corner of the double reinforced hems to make hanging a snap. Additional D-rings are also located on the center of each side for all sizes 12'x12' and larger for additional hanging support. The threaded drain spout connects to all standard 3/4" garden hoses which need to provided by the user. Once the proper length hose is determined it needs to be run out a door or window, to a floor drain or storage drum or to a sink so gravity can do its job and remove the water from the affected area.
Medium Duty Drain Tarps – DuraShield 8000 Diverter Tarps are the standard of the industry for Most applications. They are our least expensive drain tarp and can be used in any environment NOT requiring a certified Flame Resistant material. Constructed from our 4-ply, 2-side coated, 6 oz/sy woven reinforced, 12 mil thick polyethylene, these diverter tarps have double folded hems for added strength and are sewn with the black side showing from underneath. Also available in white/white or white/silver on a special order basis.
Heavy Duty Drain Tarps – ThoroShield 1400 FR Leak DiverterTarps are constructed from our 14 oz/sy heavy duty fire retardant, rip-stop polyester tire cord reinforced, translucent vinyl. Overhead lighting can still be viewed thru these tarps and they Must be specified when the Fire Code stipulates that a Flame Resistant product must be employed. Many solid colors are available on a special order basis.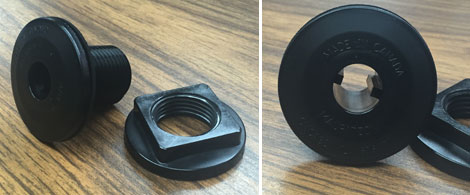 Heavy Duty Anti-Static & Fire Retardant Roof Drain Tarps – ThoroShield 1200 ASFR represents our newest high tech flame retardant AND anti-static Diverter Tarp and is the product of choice in Central Offices, around digital switchgear & other computer equipment when both static discharge and fire retardancy are paramount. It is constructed of our Rip-Stop reinforced white 12 oz/sy vinyl. This class of THOR brand Drain Tarps is constructed using non-arcing plastic D-rings for easy installation and like all our other diverter tarps features our threaded nipple for standard garden hose (not included) attachment.
This Item is Not-In-Stock, takes 1 to 10 business days to manufacture.